ORBIT'S MISSING LINK?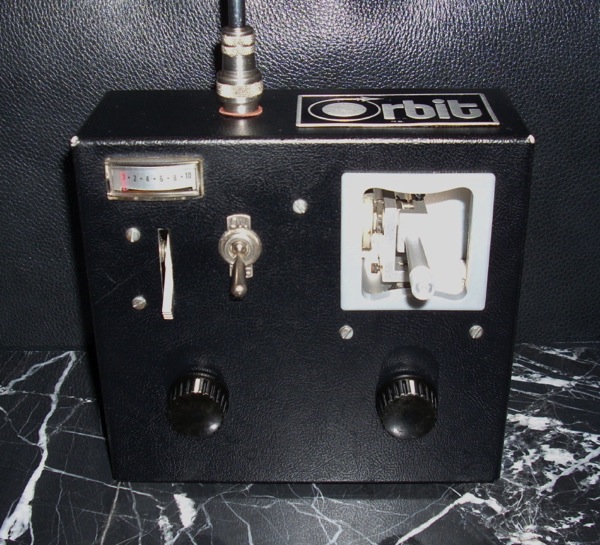 (Click on any of the images on this page to see a larger version)

Here is a most unusual Orbit 3+1. Its controls are laid out utterly unlike the production model and its case is vinyl clad and the size used for Orbit's first vinyl clad digital proportionals.

The quality of case cuts, vinyl cladding and general construction makes it likely this was factory-made by Orbit, not home-made by an individual hobbiest. Then why haven't we seen one of these before?

Is this a missing link between the era of analog proportional in anodized cases and the era of digital proportional in vinyl cases? Is it a prototype for a modified 3+1 which Orbit ultimately decided not to produce?
One plausible explanation comes from RC expert Jay Mendoza. He believes Orbit may have continued to sell its old analog lines into the digital era, in order to make some money off remaining stocks of analog components. Some customers may have preferred "tried and true" analog systems over "quirky new digital" radios, and perhaps they received an attractive discount.
Existing vinyl cases would have been used if Orbit was out of the old anodized ones or the customer preferred the then-modern vinyl clad look. Either way, the case cuts for the sticks, trim knobs, etc. would have to be made from scratch so the customer might have been allowed to customize their location something like the later Signature Series by Kraft.
Orbit expert Eloy Marez worked at the company as early as 1966. He recalls seeing " a number of 3+1s in the shop, in different cases and mods, probably prototypes." He is uncertain whether any vinyl clad versions were marketed. Vintage RC guru Ed Rutherford suspects this was a custom radio made by an Orbit employee. He notes it may have been made later than we think since it used a three channel digital type layout (throttle lever on left) which arrived on the scene in later years.
Please let us know if you come across another transmitter anything like this so we can hopefully learn more about this mysterious radio.